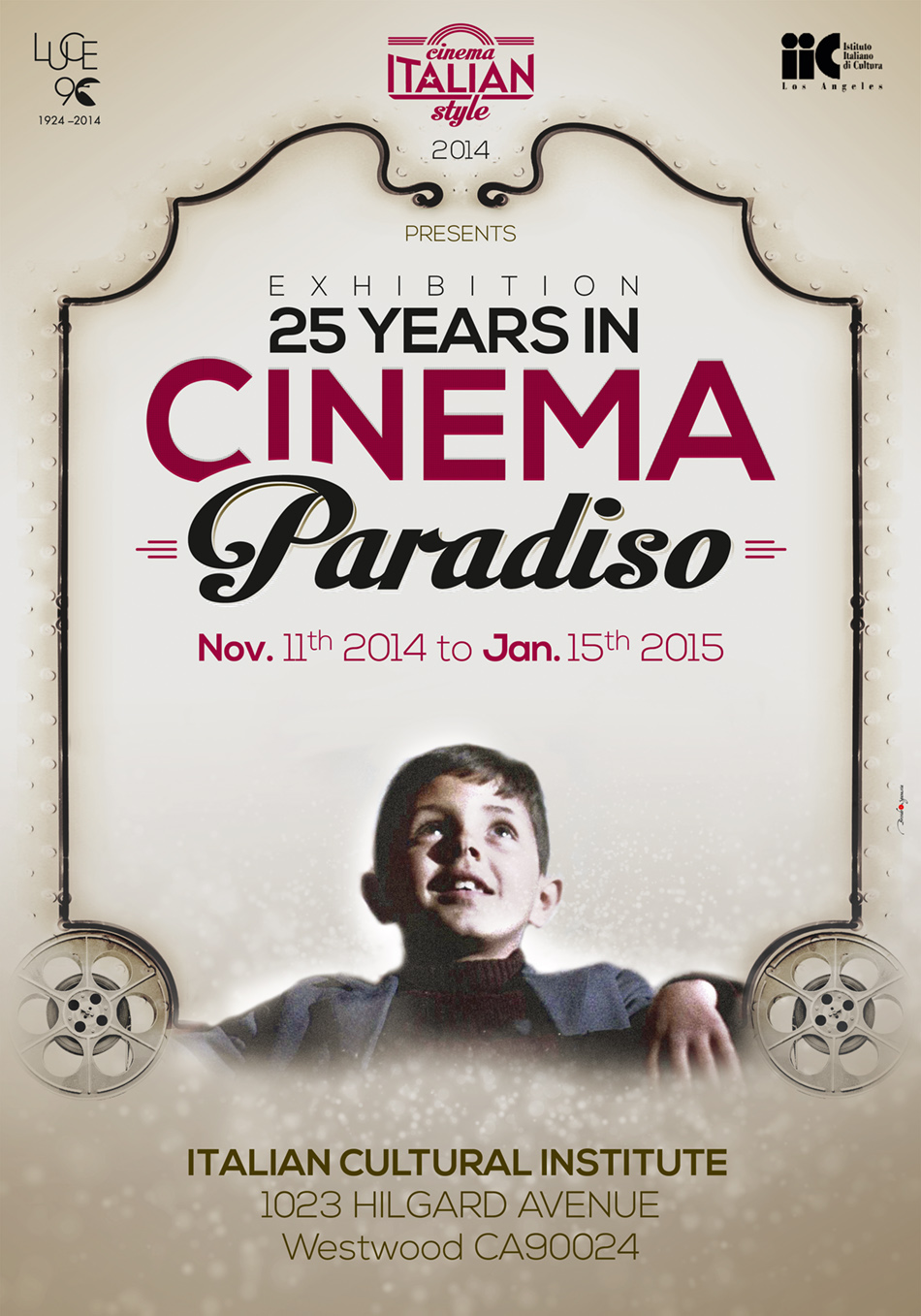 MOSTRA SU NUOVO CINEMA PARADISO
From 11/12/2014 to 1/31/2015
The exhibition aims to "celebrate" one of the most important Italian films of cinema history and greater success overseas, Cinema Paradiso by Giuseppe Tornatore, the occasion (in 2013) of the twenty-fifth anniversary of the first public screening took place November 19, 1988 .The initiative, which takes advantage of working directly with the Director, retraces the main stages of the film's success at Cannes, the Grand Jury Prize (May 1989) and Hollywood by winning the Oscar as Best Foreign Film (1990).
The occasion, therefore, allows to trace, for three years, one of the most sensational blockbusters of all time through a show that revives the age of 25 in "Cinema Paradiso" as a producer Franco Cristaldi wrote in a telegram of greetings at the beginning addressed to the director of the shoot.The exhibition traces the story through various sections of the film, with movie posters produced around the world, with the revival of environments such as the projection booth, or the countless testimonies some of which are particularly important as that of Leonardo Sciascia, Federico Fellini, Gabriel Garcia Marquez and many others.
The exhibition is entrusted to Studio Blue, one of the most important international art, great experimenters of new media and visual prompters of emotions. Prize winners in 2010 with the Museums-ICOM Museum Laboratory of the Mind in the category "Innovation and attractiveness in the relationship with the public." Through a virtual setting, multimedia and interactive, designed by Studio Azzurro, is offered to the public not just a documentary exhibition of objects "symbol" of memorabilia, but an emotional experience that allows visitors to relate to the events narrated in the film and try the same intense and deep emotion aroused by the movie.
The exhibition will continue through connected sections that tell a surprising and original aspects of the film and its protagonists.The itinerary will allow, for example, by choosing a photo of the film and backs of interactive media through interviews or sensitive to rebuild the hands of Tornatore as we got the sequence or inspiration, or simply be immersed in the scene, becoming a spectator -star.
The visitor, thanks to modern technology, will expand on some aspects of the film, creating their own itinerary, discovering or rediscovering the emotional passages of the story and its protagonists thanks to the countless contributions to videos and testimonies of those who took part in the adventure production the film.